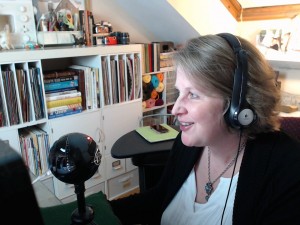 I'm Debbie Hodge, the owner of Teach What You Do. I'm also the owner of Get It Scrapped where I've developed and sold over 100 online courses since 2007.
I'm glad you're here because I'm guessing that, like me, you've got an interest in sharing your talents and expertise in online classes. What's more, you're probably interested in building a profitable business around those online classes.
Technology has made it easier and more affordable than ever before for any of us who want to set up and teach from our own online classrooms. Student behavior and expectations also make teaching online a profitable venture: your potential students have discovered that the internet is a desirable place to learn when you've got the right teacher.
I've been doing this work for 10 years now, and I've got a system for the tech, the sales, and the content creation work of teaching at Get It Scrapped and Teach What You Do. If you're ready to move forward with your own online teaching, I've got a series of free lessons that get you doing foundational work PLUS a free Facebook group of other online course builders. Click on the button below, and let's get started.
start building YOUR online class
Teaching online is a way for you to run a profitable business and continue to learn, to do a good work, to share my creative passions with others, and, quite simply, to put myself out into the world.
There is more than my passion that makes me qualified to show you how to "Teach What You Do" on your own platform.
My experience writing for print magazines, authoring my own book, and then building the Get It Scrapped family of websites has yielded thousands of articles, over 50 eBooks, 100+ online courses, and hundreds of hours of video training. Click here to see my "crafty business-owner" about page.
I've developed membership sites for 7 years and currently work with over 700 happy members at Get It Scrapped.com.
I have an MBA and 25 years of creative writing study and practice.
I was honored to be among the first two-dozen content marketers and copywriters certified by Copyblogger Media.
Be sure to sign up for Prep School and get started with free lessons. Join our community on Facebook for the support and accountability that will keep you moving forward.
Debbie