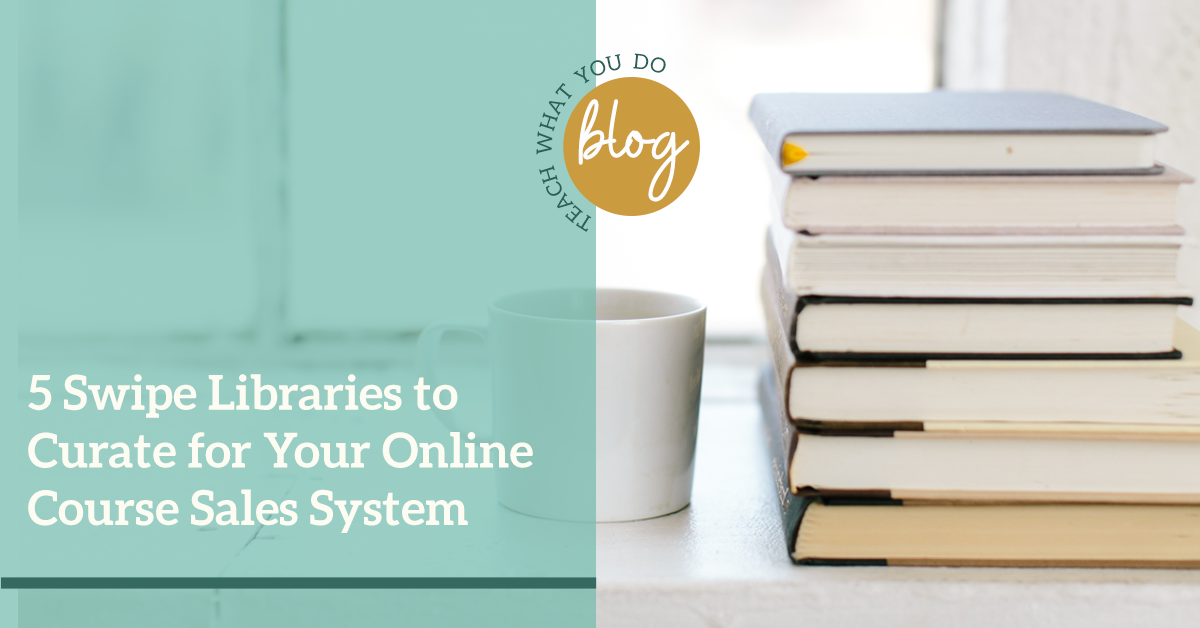 Your online course lesson content needs to come out of your own expertise, ideas, and experiences.
But when it comes to your marketing content, you don't need to completely reinvent the wheel. Instead, you can curate inspiration and build swipe libraries to turn to for structure, inspiration, and language that resonates with your clients.
Austin Kleon wrote a book called "Steal Like an Artist." In it, he shared the idea that every new idea is a mashup of old ideas. He recommended that artists collect good ideas from their heroes–from the people they'll cite on their own artistic lineage, recommending that you "save your thefts for later." In other words: build your own "scrapbook" of inspiration pieces.
When it comes to creating your marketing content, here are five swipe libraries you can build for your own reference. The idea is not to copy the items in your swipe libraries, but, rather, to transform them into your own original work.
1. Curate the words your prospects use to describe their problems and desires.
As you hang out at the best spot for hearing the "water-cooler" talk of your prospects, listen to their conversations–
–but listen with more than your ears:
listen with a big old spreadsheet in which you track key conversations and record exact words your people use.
The reason for doing this is: when you run ads, create sales pages, write emails, and present live, you'll be able to speak in their language–you'll be able to speak in a way that resonates.
Here are four types of conversations to especially listen in on and record language:
1. What are the PAIN POINTS or fears they're expressing–and how do they talk about these problems?
2. What are the GOALS they're most interested in–and how are they described?
3. What OBSTACLES do they see as being in their way–and what are the specifc ways they talk about them?
4. What QUESTIONS are your people asking–and what are the specific answers they want?
2. Curate an email swipe library
I never want you to directly steal the words of other marketers. Instead I want you to collect from them so that you can understand how they speak to their prospects–both in isolated situations and in an overall arc of communication.
Collect email correspondence from the people you're watching. Subscribe and tuck them into a email folder or category or label or even completely separate email account so that you can take a look later.
When you're building your own online course and begin creating list-building lead magnets, you'll use these to help you brainstorm and even understand the conversation you should be having with your people via email.
When you're setting up your launch series to sell your online class, you'll use these to see the different forms an email series can take during a launch. They can even function as roadmaps to the various forms launch and delivery can take.
3. Curate sales pages
Creating a sales page isn't easy work for most of us. When it comes time to launch and sell your online class, the look and flow and content in your sales page will directly impact your success.
As a part of my paid class, the e-Course Blueprint, I have a detailed recipe but it includes suggestions for variation. You will better know just when to swerve and when to stay steady as you create your own sales page if you've studied successes in your own industry–and if you can turn to swipes for considering your choices.
While you can save the URL of a sales page, the better choice is often to grab a screen capture because the best marketers change their sales pages to "doors are closed at the moment" once a promotion is over. Search online for "scrolling screenshot" or "whole page screen capture" to find a tool for this. Google Chrome has an extension that will let you do this. I used a paid tool called Snagit by TechSmith. Save your screen captures in a folder on your computer.
4. Curate webinar or live presentation arcs
If you're planning to use a webinar to sell your course, spend time watching–and studying–presentations by those who are successful with this approach. Story board it out as you watch with a notebook and post its. You're not grabbing exactly what they say but, rather, the structure and flow of their presentation.
5. Curate Facebook ads
If you're developing and selling an online class, there's a good chance you're going to try (and maybe even embrace) using Facebook ads.
There's both art and science to creating effective ads that get you leads without breaking the bank.
Start "clipping" the ads that your industry heroes are running right now with a screen capture tool. File your clips either as jpg files on your computer or in a tool like EverNote or OneNote You'll use these later to guide both the imagery and text in your own ads.
Pssst! Is creating a course that stands-out a priority for you?
Click here
to watch my newest free course-building masterclass--so that you understand and start taking important first steps for making your course a
profitable
one.