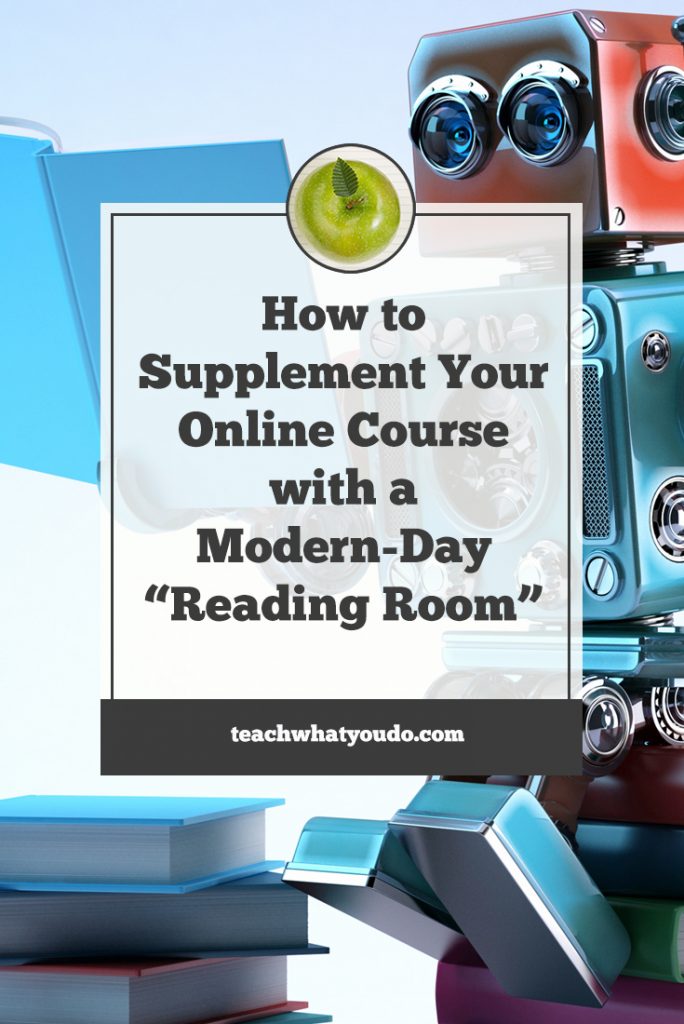 Your own focused lessons will be the core of your online course. With that core made clear, though, you will always have students who want to go deeper in their learning or practice or who could benefit from additional motivation, inspiration, and instruction.
In my pre-internet college days, there was a thing called the "reserved reading list."  To get to those readings, I'd take an elevator to the Reserved Reading Room in the basement of the library to find out if one of three photo-copied reading packets was available. If the reading was there, I'd exchange my student id for the packet, and then stay in the reading room until I was done with the material or until my time with it was up–because if it was right before finals and a particular reading was in high demand, you could only have it for a couple of hours.
Today, though, when you're delivering your course in an online venue, your "supplemental readings" can take on forms supported by the oh-so-easy-to-use tools of hyperlinking and embedding. And there are production platforms like YouTube and curation platforms like Pinterest where you can create your own collections of resources.
Below I share 6 kinds of supplemental materials to consider incorporating into your classroom as well as several ideas for how to present them.
6 Types of Resources to Use as Supplements to Your Online Course
Here are 6 kinds of supplemental materials to consider sharing with your students. Note: When these materials are made by someone else, you'll often be linking off to the original source to protect and respect the creator's rights. An exception is with items explicitly set up for embedding on other sites, like public YouTube videos that have an option for copying the embed code.
SUPPLEMENTAL MATERIALS IDEA #1. Resources that allow deeper study.
If you're teaching guitar, you might link to a fingering chart that's already available from a music publisher or guitar maker. If you're teaching a software tool like Illustrator, you could share a stepped-out process demo from someone else showing the technique from the lesson put to work. If you're teaching brake repair for bikes, you could compile links to diagrams and parts lists from top bike brands.
SUPPLEMENTAL MATERIALS IDEA #2. Resources that expose your students to other voices that echo or enhance your teaching.
If you're teaching wellness, you might include a video from Oprah's Soul Sunday with Tony Robbins or Brene Brown (these are public YouTube videos with embedding on other sites allowed). If you're teaching money management, you might link to an article or lesson from Dave Ramsey. Look to the experts in your field and the free materials they've made available that confirm what you're teaching and give your students confidence and motivation in their own progress.
SUPPLEMENTAL MATERIALS IDEA #3. Resources that inspire creative work and motivate your students to take action by example.
If you're asking your students to take action with what you've taught them, you could share videos, articles or Pinterest board collections that show the work of others who've done this kind of work successfully. Show results that your students can aspire to.
For example, if you're teaching a creative skill, create a pinboard of completed projects: quilts, woodwork projects, DIY home décor, plated gourmet meals. If you're teaching painting with pastels, you might share a Pinterest board of works by accomplished painters. If you're teaching logo design, you could share a board of well-designed logos. If you're teaching hand-lettering, collect images of a range of hand-lettered projects–from menus to invitations–as inspiration.
If you're working to move your students to take action around their own wellness and self-care, you could build lists or Pinboards of the kinds of items they should collect, like healthy snacks or guided meditations or things that make relaxing sounds.
SUPPLEMENTAL MATERIALS IDEA #4. Resources that provide a broader understanding of a topic and that can trigger personal connections for your students.
If your teaching asks students to look inward, whether for self-transformation or for the development of personal creative work,  you could share articles and works by others that show different angles on the topic. For example, at Get It Scrapped in February, we'll be prompting students to create journal or scrapbook pages on the topic of clutter (or decluttering). Our supplemental resources will a Pinterest Board of essays and opinion pieces from top newspapers and magazines on the topic.
SUPPLEMENTAL MATERIALS IDEA #5. Resources and free tools that can be used to complete work.
What's your topic, and are there free tools your students could make use of as they complete the work of your class? Are there templates, recipes, printables, apps, fonts or some other items that others make available for free that your students could use? Collecting these items on a pinboard or linked resource list or illustrated pdf makes a great supplement for your students. At Get It Scrapped, we've got boards with free scrapbooking sketches, with vintage printable art from the public domain, with files for popular eletronic die-cut machines, and with free fonts.
SUPPLEMENTAL MATERIALS IDEA #6. Resources that can enable field-work-type assignments.
Consider the new assignment possibilities you have for your students when you can collect the raw materials for that assignment from the internet.
For example: If you're teaching graphic design and a lesson is on "emphasis," you could present your students with a Pinterest board of posters or book covers or magazine layouts and ask them to choose a piece and identify the focal point and report on what makes that element dominant. If you're teaching floral arrangement, you could share a board of arrangements and ask your students to pick one and make an arrangement inspired by it–or to pick one and explain the balance of the piece.
An example of supplemental resources at work
I've used many of the approaches described
above in my teaching at Get It Scrapped, a scrapbooking education membership. Here's what we're doing in an upcoming series of classes called "Story+Design."
In the "Story + Design" series we have monthly focus topics for teaching both storytelling and layout design. Our first topic is "Clutter/Declutter." We'll present the idea of clutter (or decluttering) as a prompt for storytelling and tie it to a design lesson on incorporating white space.
The class will be presented with an illustrated digital magazine and several short videos.
Within the magazine, we'll present "extra resources" and clickable Pinterest board images that link to these boards:
Board 1: Cluttered Aesthetic. It will include images of décor and design and print and fashion and other visual works that are visually full or busy–think of an eclectic, bohemian-styled living room as an example. This is to inspire making journal and scrapbook pages with this look.
Board 2: Clean and Simple Aesthetic. It will include images of décor and design and print and fashion and other visual works that have a clean look. This is to inspire making journal and scrapbook pages with this look.
Board 3. Essays and opinion pieces about the topic of clutter, possessions, decluttering–even hoarding–from popular magazines, blogs, and neswspapers. This is to give students a way to think about and even look more deeply into their experiences in order to remind them of past incidents or beliefs and, thus, inspire storytelling.
Board 4. Articles about design as it relates to white space from blogs, magazines, or newspapers. This is to provide additional instruction for those who want to understand designing with white space more deeply and completely.
Approaches for presenting supplemental resources to your online students
Your own content is the core of your class. The supplemental materials can include a mix of work by others and free materials you've created and posted elsewhere.
Be sure to present supplemental materials clearly as add-on helps, deciding when to embed in the classroom and when to link offsite. Here are a few ideas for collecting and presenting those supports logically.
PRESENTATION IDEA #1: Linked list of resources in a variety of formats.
The simplest approach is to create a typed, linked list of resources. Those resources might be web pages, blog posts or articles, pdfs, videos, or audios.
Consider setting up the links to these resources to open in a new browser tab so that the course still stays open at the latest page. Use short relevant descriptions with your links.
This linked list can sit on its own resource page or on each module or lesson page so that the resources are specific to the content being learned by your students at the moment. It could even be housed within a pdf lesson. Consider including checklists students can use to check off the core content and supplemental content completed.
PRESENTATION IDEA #2: Embed resources when the producer allows
You can embed public videos or audios into your site when allowed by the original creator, for example, with YouTube embed code.
Consider presenting your own core lesson front and center and putting the supporting videos with a "toggled" or "tabbed" presentation below. Most WordPress plugins have shortcodes for each of these.
PRESENTATION IDEA #3: Create a "YouTube Playlist" and embed or link to it
YouTube allows the creation of a "playlist" with videos from multiple producers. With this tool you can group related videos made by a variety of people. You can then link off to that playlist or embed it on your site. As with the linked list just described, think about where to place the playlist. You could put it right on the related lesson page or on a general resource page in the classroom. Set the link to the playlist (if it's offsite) to open in a new browser window.
PRESENTATION APPROACH #4: Use a screen capture of a Pinterest Board icon and make it linked upon click
If your content is visual or if your students are already accustomed to using Pinterest, then pinboards can be a good tool for collecting and presenting resources. You'll have to link off from the classroom to the boards, but you could grab a screen capture of the board icon and present that in your classroom (hyperlinked)  as a way to make things feel integrated.
What will be going into your classroom's supplemental "reading room?"
Click here to download our FREE quickguide to incorporating these 6 kinds of supplemental materials into your online classroom.