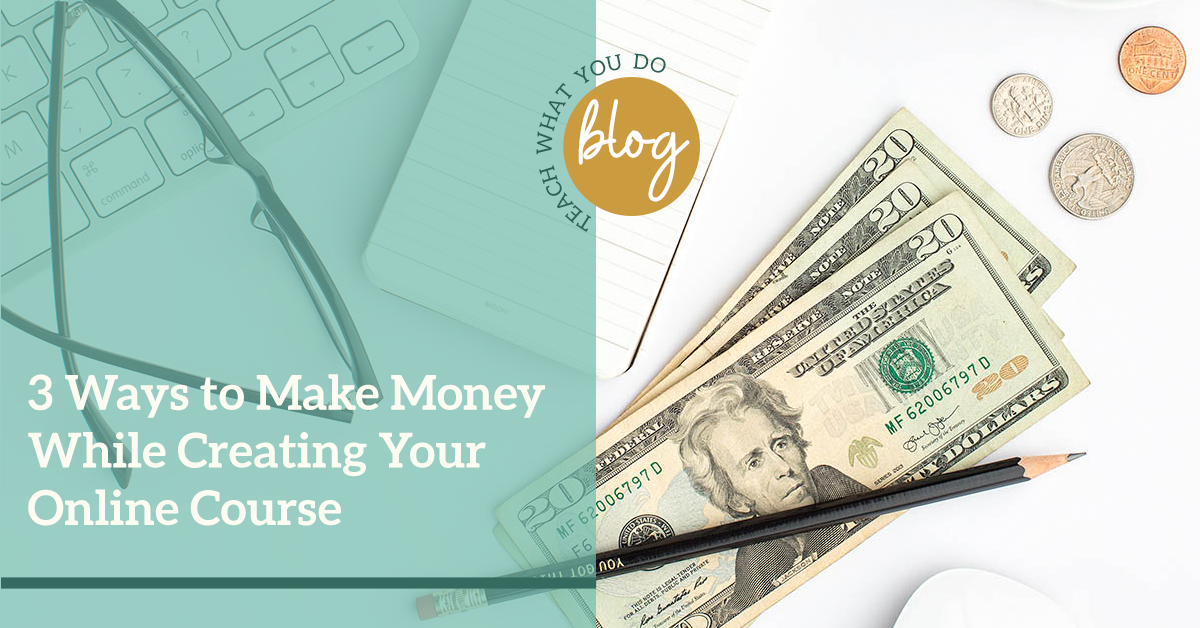 Building a profitable online business does not happen overnight. Many of us still need to generate income while creating our course and the systems that go with it.
That income is needed to cover costs we're responsible for in our personal life, to make a bridge between past work and this new business model, to fund the tools and services need for an online teaching business.
Here are three ideas for building on the expertise that fuels your teaching to make income-generating offers before the course is ready.
These don't have the leverage that a course will since they have you serving one person at a time, but they are great "bridges."
Not only do they bring in income, they are based on the skills you're planning to teach, which means you'll be building your skills and working closely with people who could be your students.
An added benefit is that by doing this work, you will generate new ideas and end up refining the systems your course needs.
1. Offer reviews and critiques.
With this work, you use your expertise to help your client evaluate where they are at with a particular project. You look at what they've done or what they are planning and then methodically lay out: what's working, what's not working, and what it will take to get things working.
EXAMPLES:
COPYWRITER. If you're a copywriter, you could offer to evaluate the content and structure of a sales page.
There are plenty of other things you could also critique with this expertise—an email series, a landing page, ad copy—but create a particular "menu" of things you'll critique. And then (behind the scenes) create a system to do each of these menu items so that you are more efficient in this work even though it is done one client at a time.
Know this: by doing the work of systematizing critique packages you are offering–you'll be mapping out steps that may well translate to lessons in your online course.
FASHION STYLIST. If you're a fashion stylist, you could give your client a style critique. Have them take you inside their closet virtually—a tour with Facetime. They can also share pictures of themselves in the outfits they frequently wear, and tell you about their lifestyle. You'll critique what they've got going on, telling them what's working, what's not working, and what will work. Again, having a system for approaching the critique work, and keep an eye out for what will translate to your course development.
2. Offer customized plans.
The "customized plan" is one-to-one work that takes the review or critique a step farther. And yet it stops short of "done for you."
You'll work with your client to develop a complete and detailed plan for what they need to get and do to accomplish a particular goal.
Think about your expertise. Think about the things people like feedback on. Think about the things people hire out to be done completely. And now find a spot in between the two for which you'll create a customized plan.
EXAMPLES:
LANDSCAPE DESIGNER. Are you a landscape designer? You could offer a customized planting plan for those who want to DIY it when it comes to getting things in the ground, but who need help choosing what to plant and where. The client can take you on a virtual tour of their land, they can collect and submit mail-in soil testing for you to review, and they can tell you about the effect they are hoping for and their budget. With that information plus your knowledge of geography, soil, light, plants and more, you'll deliver a plan for preparing their beds, buying plants and placement.
MARKETING STRATEGIST. If you're a marketing strategist, you might offer customized plans for Black Friday promotions for service professionals. You'll help them map out all the pieces they need created. That could be emails, sales pages, checkout upsells, and Facebook Ads. Remember: you don't create these pieces. Rather you map out what's needed.
3. Offer coaching, tutoring, mentorships or personalized teaching in one-to-one or group settings.
With this offer, you'll define a "package" that includes the number meetings, the timing of the meetings, and the particular focus or goal you'll teach to. There's a great range in how you can structure this and what you can charge.
EXAMPLES:
WELLNESS. If you're a nutrition or wellness expert, you could work with one client or a group on nutrition and exercise goals for weight-loss over several sessions.
ACADEMIC TUTOR. As an academic tutor you could work with a young child learning to read or an older child mastering calculus or preparing for standardized exams or writing an essay.
Be sure to leverage systems.
If you choose one of these routes for earning money with your expertise as you're on your way to building a profitable online teaching business, understand that systems are your friend.
Use a systematic approach to developing the packages and deliverables. That system should tap into how your expertise is best used and understood. Not only will it help you as you do this one-to-one work, it can form the basis for your online course.
Again the three ways to make money with your expertise are:
Offer reviews and critiques
Offer customized plans
Offer coaching and personalized teaching