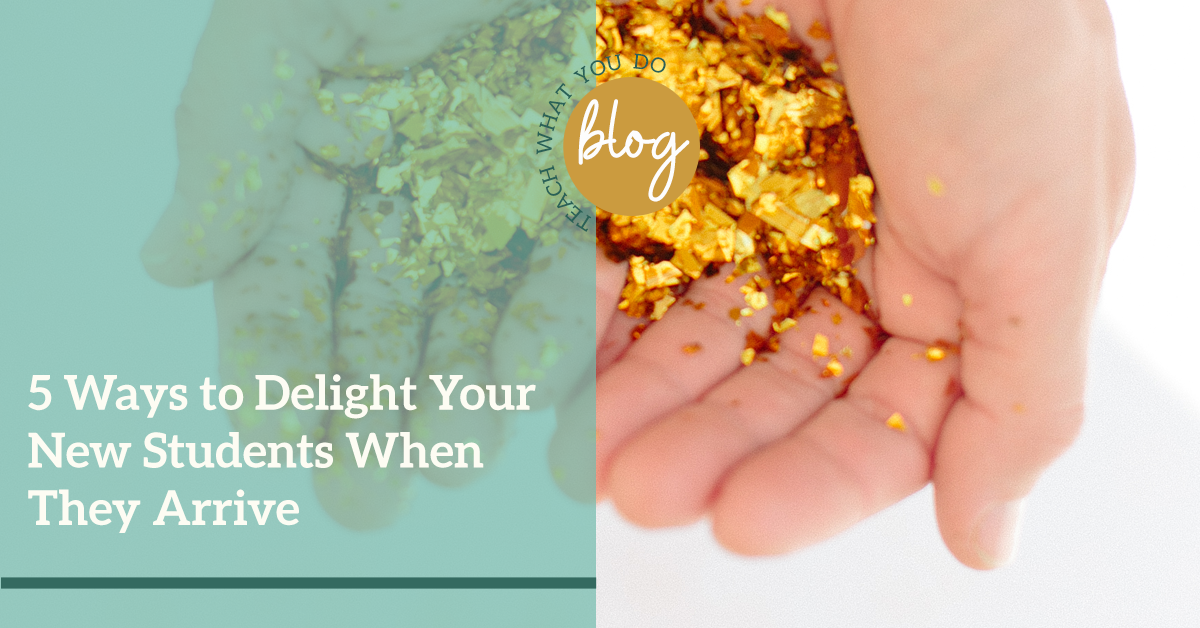 It's always a good thing when your arrival somewhere new goes well.
If the restaurant has a table for you and your drink order is taken right away, you feel like it bodes well for the whole experience.
And I'm sure if you have guests, you want all to go well when they arrive. We've got house guests coming this Friday, and I'm planning to have the guest rooms clean and ready, groceries in the fridge, and my work schedule clear so I can spend quality time with them.
It's that way for your new students in the moment after they've made the purchase for your class.
They are ready to roll–and they're going to be so much happier if the arrival goes well.
Here are 5 ways to make sure you're ready to delight your new students when they arrive.
1. Set up and test the onboarding tech
Make sure you've tested and retested that the purchase triggers:
· a welcome email, and
· enrollment in the classroom.
Especially if this is the very first time you're selling a class, test and double-test.
2. Set tone and direction with your welcome email
With your welcome email, you can set a tone and expectations. You want to be sure that students know you're excited to work with them AND you want them to know how things will work.
So say HELLO, give them a glimpse of what they can hope to achieve and how you'll be showing up for them.
Then tell them what to do next and exactly how to find their materials.
Provide login details. If you want them to immediately join the community, tell them. If you want them to find the coaching calls calendar and get the dates scheduled, tell them. If there's a must-view lesson for getting started, tell them.
You get the picture.
3. Have a first lesson ready
Have a first lesson ready for your students to view and use right now–even if course doesn't start yet.
They're excited. They just made an investment.
Know that and act accordingly.
If the class is delivered all at once, then your students could dig in with lesson #1.
But if it's a big class, create a first welcome lesson that describes the bigger picture and flow.
If class doesn't start for a week or so, then create a short pre-class lesson that warms them up and keeps expectations and energy high. It might not be a full-out video lesson. It could be a video, a worksheet, a fun eye-opening assignment.
Think about where your students are mentally when they arrive and that should help you figure out what to do.
4. Have your student support process in place.
Be sure you've set up a process for spotting and handling student questions. Make it easy on them and yourself by including a link to submit customer support requests.
You don't need a fancy support service. Use a form on your site that gets sent to your preferred support email address using a pre-filled subject that gets tagged and stands out in your inbox.
5. Have a starting spot inside any private community for your class.
If your program includes a private community, set up a welcome message with prompts that make it easy and comfortable for folks to introduce themselves–and be sure that you and/or your community manager are responding to those introductions.
That's it!
Here's to many happy arrivals in your online teaching future.