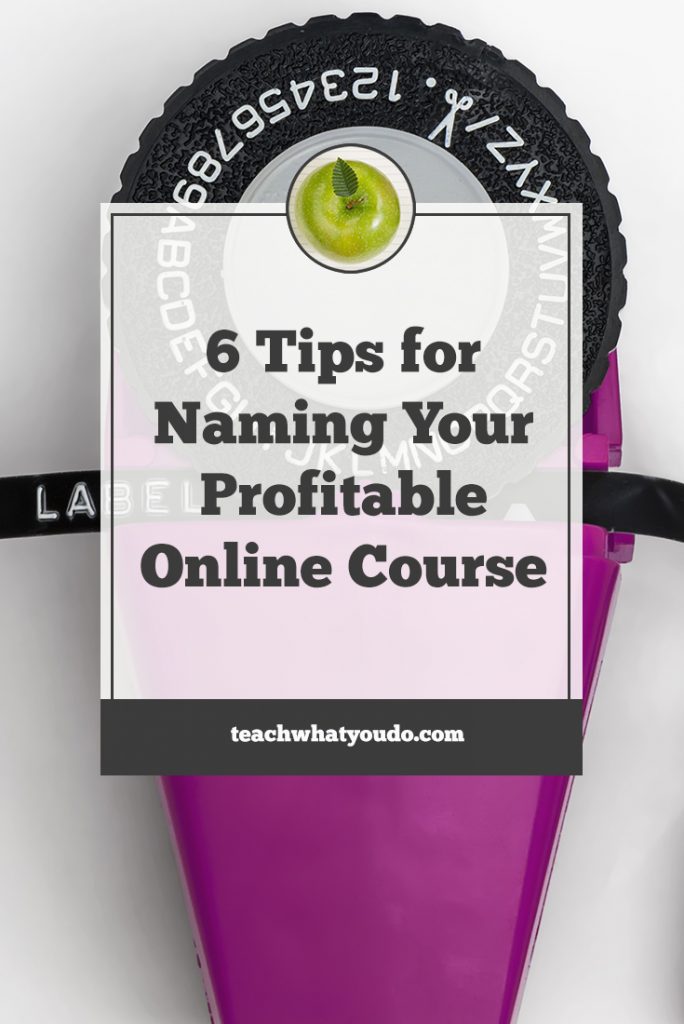 To offer your online course to potential students, you need something to call it. You need a name.
William Shakespeare wrote, "A rose by any other name would smell as sweet". . .
. . . but a rose exists in physical space and can be taken in with multiple senses. Not so for your digital product. Folks aren't going to get to smell or touch that class of yours. Its name may well be their first understanding of its existence.
So let's get down to the work of making a course name that promotes and sells your courses with my six best tips.
1. Use a course name that clearly conveys the outcome of successfully completing your class
Are you teaching people how to write emails that sell? To use yoga to look younger? To build a profitable brand? Communicate this clearly.
Working these outcomes into your course name gives you a results-oriented title that reminds your prospect of their problem and presents a solution.
Examples of ecourse names that incorporate outcomes:
Create a Knockout Graphic Design Portfolio

Start Your Profitable Podcast & Build a Brand

Make Digital Products That Sell While You Sleep

Turn Your Etsy Shop into a Sales Machine
2. Use a two-part name for compelling simplicity combined with subtitled clarity
A two-part name (essentially a short descriptive name plus clarifying tagline) is a way to be super clear and still have room to expand on your topic.
Examples of two-part ecourse names:
Face Yoga Method. Take 5 Years Off Your Face in 5 Months

The Power of Happiness: Use the Science of Happiness to Improve Your Life

Finance for Freedom: Master Your Finances in 30 days

Curated Albums. Discover and Showcase the Stories Your Best Scrapbook Pages Tell

Work Remotely. Thrive in a Job From Home

Freelancing 101. Turn Your Side Hustle into Cash
3. Always choose clarity over cleverness
Confused prospects don't take the time to investigate what's really going on, and confused customers don't buy.
Make sure anyone who ends up at your course sales or information page understands exactly what you're offering. What's more, increase the liklihood that the right people do end up at your course sales pages. A clever name that can be taken in different ways can draw the wrong people and prevent the right people from taking that next step (or click) to the spot where you do finally explain.
Examples of simple clear online course names (and their kind-of clever alternatives):
Create Show-Stopping Cheesecakes (better than "You'll Be Pretty Cheesy")

Fundamentals of Drum Tuning and Recording (better than "Don't Get Drummed Out")

Logo Design 101 (better than "Logo Lowdown")
4. Convey a complete course or system with words like "formula," "blueprint," and "system"
A great motivator of consumer behavior is the promise of less stress, of a complete and even easy system that will get the student to their outcome. If your course offers this kind of solution, use the name to convey this.
Example of online course names that convey a complete solution:
The Teach What You Do eCourse Blueprint

Successful Interview Formula

Evernote Mastery Course

The Kindle Evergreen Book Publishing System

Law of Attraction Success System
5. Double down on the success students can have with your "system" by adding powerful modifiers
If your system merits it, consider working in powerful modifiers like "complete," "amazing," or "new."
Examples of "awesome-system" course names:
The Complete Crowdfunding Launch Formula For Kickstarter

Write In Steps: The Amazing Nonfiction Book Writing Formula

Ultimate Blueprint to Supercharge Your Webinars & Podcast
6. Use naming unity for a series of courses
If you're offering a course series or related courses, use a common name format. And if the courses need to be completed in a particular order, be sure to include that information with integrated numbering.
Example of course series names:
Art Journaling 101: Get Started with Backgrounds, Collage & Text

Art Journaling 102: Oomph Your Image, Layers & Texture

Art Journaling 103: Master Composition and Color
Put these tips to work
So there you have it. Pull out pen and paper, and work through these tips, writing down possible course names. Keep every option you create. No erasing! Watch your course title change and get more clarity and power as you moving from brainstorming to refining to a final course name that clearly tells prospects what they'll be able to do with they finish!