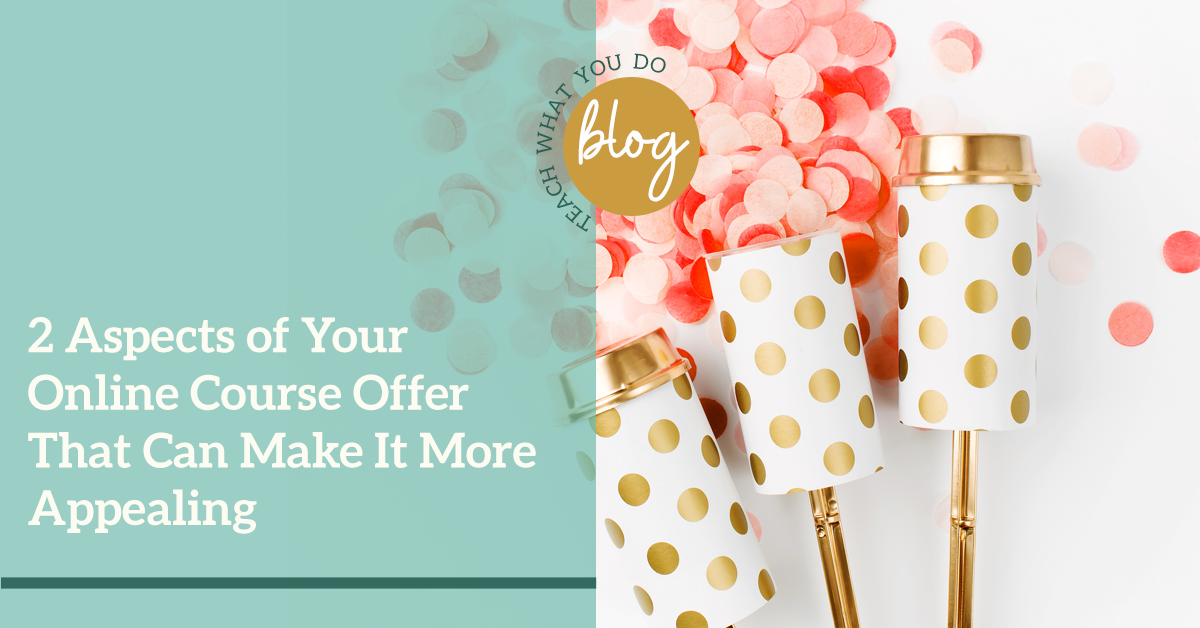 Over the holidays, my family played the board game Settlers of Catan.
Several times.
In this game, you trade resources–sheep and wood and bricks and wheat and rocks–to build roads and settlements and cities.
The gameboard is set up so that there are fewer opportunities to produce bricks than to produce sheep. In most games there's a point where someone's trying to get their hands on bricks. They offer a sheep. Then two sheep. What about three sheep?
And that's when someone yells: No one wants your sheep!
It's a funny thing in Settlers of Catan. Funny because it happens again and again. And because it's true. I don't want three sheep for a brick. But I would take a wheat and stone along with that sheep because then I could buy a development card.
And this connects to selling your online course in that: it's all about the offer. 
You can create a class on a topic that others are already teaching, for example: Mindfulness Basics or Intro to Crochet orHome Canning Fundamentals.
You can do this as long as this class has pieces that make it special: the equivalent of wheat and stone to go along with the Settlers of Catan sheep.
Here are two aspects of your course offer that I love leveraging to make my offers extra special and extra useful.
#1: Roadmaps
I use the term "roadmaps" to refer to any of the guides or done-for-you tools that you could include. This could be a planner and shopping list to go with home canning basics. It could be extra patterns to go with the crochet class.
In my eCourse Blueprint, these roadmaps include several super useful tools:
The first is a printable planner with a two-page spread for every one of the 42 lessons in the program. With this planner, my students can map out the pieces they will use and the steps they 'll complete.
There's also a workbook that walks through key decision points in the class.
And there's a super big bundle of graphics templates for making a course logo, teaching slides, ad and social media graphics, and even an info-graphic styled lead magnet.
Now think about your own course and roadmaps.
What are the guides that would enable your students to speed up their transformation and success or to enhance their experience of a creative class?Are there recipes or prompts or swipes or other done-for-you pieces?
Put it on your to-do list to brainstorm your own roadmaps.
The second aspect of your offer that can give your class oomph has to do with TOUCH.
By that I mean, how much will you interact with and support your students? Get creative when you think about this.
For my scrapbooking students a great way to add touch was to bring in guest scrapbookers they could chat live with and get ideas from. Or they liked it when we all scrapbooked live together. Another popular aspect were our "critique sessions."
Quite often a class will have group coaching or office hours sessions where students can bring their questions.
Think on this and your students to figure out an optimal structure for this session. You want to be sure it's not just you filling space chatting about your own work or random tips. You'll need to find ways to make sure your students are sharing and asking questions and really getting the touch they need.
Perhaps the sessions will be specific to a lesson or a theme or maybe selcected students are scheduled for hotseat sessions. Especially as new students arrive you want to make sure they feel comfortable getting into the mix.
A stand-out approach to this group coaching could be to host "work-together" hours in which the group gets together online at the same time and works—but you'll want to make sure you don't leave this relaxed. Instead define a project and show up ready to prompt the work, send people off, welcome them back, get some shares and then provide the next prompt.
Another way to offer touch is to provide one-to-one support. It could be via email or voxer or a live meeting. You'll need to charge a premium for this — or, what I do with the eCourse Blueprint, is to offer one session to those who take the full-pay plan rather than the payment plan.
Touch. Think long and hard on this with YOUR CLASS and YOUR PEOPLE in mind and just brainstorm all the ways you could add this aspect.
Make sure that your course doesn't become the equivalent of the sheep in Settlers of Catan. Do that by creating a complete offer that delivers what your students need for success. Offer them more than sheep!
Want more creative teaching ideas?
Click the image below to get a quickguide that details 5 creative teachings.